Welcome to the Osomatsu Wiki. We're a fan community dedicated to recording everything we can about the Osomatsu Franchise. If you notice any content that may be missing, or can be expanded upon please help out!

There have been a total of 12,036 edits over 541 articles and 1,623 images.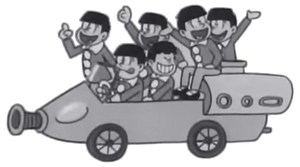 Osomatsu-kun (おそ松くん), also known by its later spinoff of Osomatsu-san (おそ松さん) or Mr. Osomatsu, is a comedy series created by Fujio Akatsuka and afterwards produced by such companies as Studio Zero and Studio Pierrot.
It has lived to see many iterations, including its original long-running manga series, multiple anime television shows, and other spinoff media like games.
---
The Osomatu-kun series began in 1966 and the show follows the shenanigans and misadventures of the Matsuno brothers, a set of identical sextuplets who seem to have a shared penchant for causing mischief and getting into trouble. They are lead by the eldest brother and titular character, Osomatsu Matsuno.
The latter half of the manga, and the 1988 anime series in particular, also follows the characters Iyami and Chibita, who give their all towards exploiting others for the sake of making large bank, though they always find their plans thwarted by the Matsuno brothers.
The Osomatsu-san series began in 2015 as an unrelated spinoff, and re-imagining of Osomatsu-kun. The anime series has run for three seasons, along with a movie released in 2019. It also has an ongoing manga adaptation penned by the author Masako Shitara, and published under Shueisha Magazines.
This series currently has two upcoming works, planned to be released in 2022 and 2023.
Recent Works
Recently a live action movie was released on March 25, 2022, titled "Osomatsu-san Movie". The sextuplets and three new mysterious characters were portrayed by members of the pop group SNOW MAN.
More information about the movie can be found on the official website here (JPN).
Upcoming Works
A featured video on the Official Osomatsu-san Website has announced 2 new anime works to be released in 2022 and 2023.
The first work was announced to be an animated film, titled "Osomatsu-san: The Hipipo Tribe and The Shining Fruit" which is due to release nationally in Japan on July 8th, 2022 to celebrate the 6th anniversary of Osomatsu-san.
More information on the movie can be found on the official website (JPN).

The second work is yet to be announced.
Fandom communities are available for everyone to contribute to.

We currently have a lot of missing content and a lot of plans, so any help is greatly appreciated.

View our Community section for a list of our top priorities, or you can find a list of pages and files to work on under our wiki's Maintenance reports.
---
Not sure how to start? View Help:Contents to read up on tutorials and get started!